On s'est laissé un peu aller pendant le mois de décembre, on l'avoue, pendant que d'autres plus assidus et plus volontaires trimaient contre vents et marées sur leur best of 2011. Mieux vaux tard que jamais (cette phrase est probablement le leitmotiv de tous les flemmards de la terre) et nous profitons donc de ce début d'année pour vous souhaiter tout plein de bonnes choses en 2012, des bons concerts, des bons disques, et une belle fin du monde le cas échéant. Vos proches ont déjà du se charger de vous souhaiter le reste, argent, amour, santé, tout çà, mais que celà ne nous empêche pas d'en remettre une couche. Et donc, un peu en retard, nous fléchissons à notre tour à la tradition indémodable de publier le petit best-of 2011 tout à fait informel de la rédaction (des deux auteurs de ce petit torchon numérique, quoi), avec nos dix albums, dix concerts et dix morceaux imparables de l'année passée.
Bonne année 2012 à tous, grand merci à vous qui nous lisez depuis presque cinq ans – ou moins. Prenez soin de vous!
TOP 2011 ALBUMS
Lionel

01. Tim Hecker Ravedeath, 1972
02. Bon Iver Bon Iver
03. Future Islands On The Water
04. Still Corners Creatures of an Hour
05. HTRK Work (Work, Work)
06. Snowman Absence
07. Belong Common Era
08. Oupa Forget
09. Epic45 Weathering
10. Civil Civic Rules

François-Marc

01. Metronomy The English Riviera
02. The Raveonettes Raven in the Grave
03. Foster the People Torches
04. The Drums Portamento
05. The Pains of Being Pure at Heart Belong
06. The Strokes Angles
07. Craft Spells Idle Labor
08. Seapony Go with Me
09. Beirut The Rip Tide
10. Blouse Blouse

TOP 2011 CONCERTS
Lionel

01. Future Islands Sonic, 11/07
02. Chokebore Epicerie Moderne, 26/10
03. Extra Life Grrrnd Zero Gerland – Africantape, 01/05
04. The Pains of Being Pure at Heart Sonic, 24/06
05. Maserati Sonic, 11/03
06. Bon Iver Halle de la Villette, 29/10
07. Troy Von Balthazar Le Fil, 08/04
08. Godspeed You Black Emperor Halle de La Villette, 14/01
09. Barn Owl Sonic, 21/05
10. Irène Périscope, Festival Expériences, 08/07

François-Marc

01. Miossec le Nouveau Casino, 20/09
02. The Drums le Nouveau Casino, 13/09
03. Crocodiles La Fleche d'Or, 07/04
04. Troy Von Balthazar la Machine, 15/04
05. Giana Factory le Popin, 06/06
06. Metronomy l'Aeronef, 07/10
07. The Raveonettes La Machine du Moulin Rouge, 07/06
08. Wye Oak Le Point Ephemere, 21/11
09. (Please) Don't Blame Mexico La Fleche d'Or, 25/02
10. New Order le Bataclan 18/10

TOP 2011 SINGLES
Lionel

1. Bilinda Butchers Careless Teens
2. Motorama Empty Bed
3. Rumble In Rhodos Carve Visage
4. Zombi DE3
5. Enablers The Reader
6. Jeniferever The Beat of our Own Blood
7. Burning Hearts Into the Wilderness
8. Dirty Beaches Lord Knows Best
9. Future Islands Close to None
10. This Will Destroy You Communal Blood

François-Marc

1. Cheerleader New Daze
2. Metronomy She Wants
3. Wye Oak Civilian
4. Still Corners Cuckoo
5. Foster the People Pumped Up Kicks
6. Bilinda Butchers Careless Teens
7. The Chromatics Kill for Love
8. The Notes Lost for Days
9. Jeremy Lee Given Old Flames
10. Death Cab for Cutie You're A Tourist
– . Cheerleader Dreamer
– . My Broken Frame Today
Ecoutez l'intégralité des morceaux ci-dessus, ci-dessous.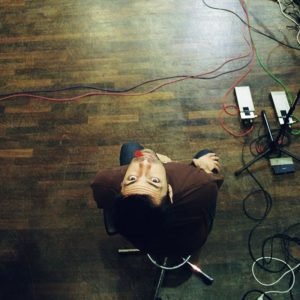 cultive ici son addiction à la musique (dans un spectre assez vaste allant de la noise au post-hardcore, en passant par l'ambient, la cold-wave, l'indie pop et les musiques expérimentales et improvisées) ainsi qu'au web et aux nouvelles technologies, également intéressé par le cinéma et la photographie (on ne peut pas tout faire). Guitariste & shoegazer à ses heures perdues (ou ce qu'il en reste).