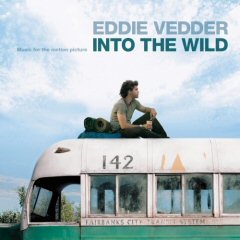 Autant que je te le dise, ayant déjà plus que parlé du dernier film de Sean Penn, j'ai franchement hésité avant de poster ici la chronique du premier effort solo d'Eddie Vedder (qui est quand même le chanteur d'un des plus grands groupes de rock je te rappelle, faut pas déconner, nan je te ferai pas l'insulte de te dire lequel). Mais voilà, après moult écoutes, cet album – et les chansons qui le composent – sont tout simplement d'une beauté inévitable.

Je ne reviendrai pas sur le film, qui m'a émerveillé, je te l'ai assez dit. Une fois mise de coté la façon dont les chansons folk subliment la photographie et les images, on peut s'attarder sur le charme minimaliste de cette bande originale… Des harpèges simples de Tuolumne, à la voix douce amère d'Eddie Vedder et ses envolées sur Hard Sun (on retrouve toujours chez lui cette espèce de fascination pour les chants indiens, flagrante également sur End of the road) en passant par les ballades au banjo, c'est l'écriture qui est mise en avant: la production, elle, reste toujours en retrait. Ce disque pourrait se fondre au milieu des vieux albums de folk traditionnelle américaine si les paroles n'étaient pas aussi proche des idées dont Vedder a toujours été investi: comme sur Society, un hymne à l'exil où le chanteur pose un regard cynique et désabusé sur notre société, ou Long Nights, et Guaranteed, dont la poésie pourrait résumer à merveille la philosophie de Christopher Mc Candless – qui reste le protagoniste principal de ce disque. Je ne résiste pas à l'envie de vous en retranscrire les paroles tellement cette chanson est belle de simplicité. Les chansons en « groupe » où une section rythmique accompagne le chanteur se révèlent au final les moins intéressantes.
En définitive, que ce soit avec Pearl Jam, seul, ou dans divers autres projets, j'ai toujours été incapable de trouver à redire sur tout ce qu'a fait ce type. Cette espèce de sincérité maladive qu'il dégage, cette vérité, cet engagement, cette façon qu'il a de rester humain en font presque un modèle. Le savoir encore capable d'émerveiller avec une simple guitare acoustique et sa voix me rassure dans cette croyance. Non, cette BO d'Into the wild ne déroge pas à la règle.
En écoute: « Guaranteed »
[audio:https://darkglobe.free.fr/public/music/EddieVedder_Guaranteed.mp3]
cultive ici son addiction à la musique (dans un spectre assez vaste allant de la noise au post-hardcore, en passant par l'ambient, la cold-wave, l'indie pop et les musiques expérimentales et improvisées) ainsi qu'au web et aux nouvelles technologies, également intéressé par le cinéma et la photographie (on ne peut pas tout faire). Guitariste & shoegazer à ses heures perdues (ou ce qu'il en reste).